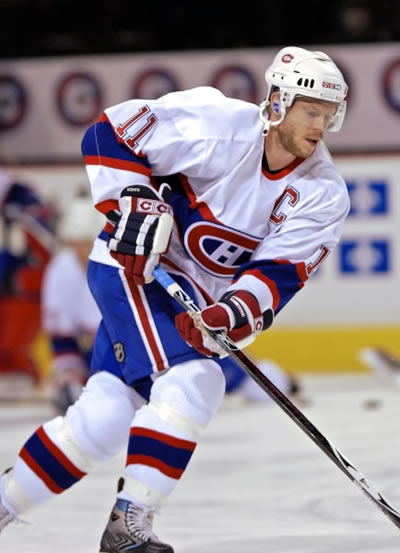 No news on the Saku Koivu front. According to this piece, the deal has moved from being a near-lock to a big maybe. With the top free agents landing so quickly (Marian Hossa, Martin Havlat, the Sedins, etc.), Koivu's not a very sought-after free agent, as many teams are searching for a #2 centerman. It appears Anaheim is in the mix along with New Jersey. The Wild need a guy like Koivu, but should not overpay for a 34-year-old. The market is expected to be a buyers' fair soon enough, and the team can continue its shopping later.
The Florida Panthers signed former Gopher Jordan Leopold to a one-year deal. His rights were acquired by Florida in last week's Jay Bouwmeester trade. Leo's my favorite all-time Gopher and there was some talk about the Wild being interested in the six-year NHLer. This article suggests Leopold turned down longer-term deals and some worth more money to take a one-year deal in FLA. He'll be re-united with former Gopher teammate Keith Ballard in South Florida. Injuries have hurt his NHL career, but he's an experienced and smooth defenseman who would have seemingly thrived in Todd Richards' up-tempo system. It isn't known if the Wild were interested, but it's difficult to believe he wouldn't have signed here if they had been.
The Ricky Rubio saga continues. I've had some time to think more about the draft, and I still think David Kahn made the right move in picking Rubio and Jonny Flynn. First of all, Rubio's NBA rights remain with Minnesota forever. His path to the NBA goes through the T-Wolves. If he wants to play in the NBA, it has to be for the Wolves or for a team to whom the Wolves trade him. This means Rubio needs to speak with the Timberwolves if he has any desire to play in the NBA. Secondly, he is 18-years-old. He still needs time to develop. If he plays one or two years overseas to develop, that's fine. He'll come over as a 20-year-old more polished than he is today. Third, and most importantly, having Flynn in the mix is great. It gives the team a point guard option for next season no matter what. If Rubio signs, then you have trade options with Flynn, or vice versa. As "worst" case, you keep both. Not a bad plan. This story is going to drag out all summer, so don't lose patience.

Meanwhile in Timberwolves land, no coach has been hired as of yet.

The Gopher hockey team officially released its 2009-10 schedule. No more speculation from Roman on this site.
The US and Canada released its 2010 Olympic Team training rosters. The US is laden with Minnesotans and those with Minnesota or WCHA ties (16 of 34 players by my count), while Canada has only a few with WCHA (Heatley and Toews) and Minnesota (Burns, Crosby - played 8th grade at Shattuck-St. Mary's) ties. I'll have an Examiner post on this probably Monday morning, so stay tuned.
Also, continue to check out my Examiner home pages for the Twins and the WCHA. I added the WCHA this week and am still building traffic. It'll be quiet there for a few months (1-3 posts a week), but we'll get it all cranked-up in September for this underserved market.