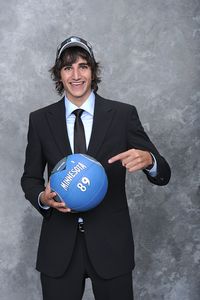 David Kahn made a huge pre-draft splash when he traded away his starting backcourt for the Washington Wizards' pick (#5) in the 2009 NBA Draft. When he held onto both picks on Thursday night, it was a bit risky, as the player the team reportedly coveted, Spanish point guard Ricky Rubio, was also sought after by other teams ahead of them. When Rubio was still available at #5, the Wolves jumped all over him, and added Syracuse's Jonny Flynn right after him at #6. The selection of those two players represents a watershed moment for a franchise which has fallen on hard times.
The Wolves had four first round picks, and used the third one (#18 overall) to take North Carolina point guard Ty Lawson, whom they promptly traded to Denver for a future draft pick. The final first round selection (#28) was used on North Carolina shooting guard Wayne Ellington, who should improve the Wolves' outside shooting. Second rounders rarely amount to much, and the Wolves made two selections last week. The first was used on Florida point man Nick Calathes, who was immediately traded to Dallas. The final selection was used on Henk Norel, a power forward from The Netherlands.
Having Rubio sharing a backcourt with Flynn next season will be exciting. Flynn is a point guard, as is Rubio, but Kahn seems to think that the two can play off each other. That will be interesting, but the Wolves certainly have filled a talent void with two special players.
The Timberwolves are getting some mixed reviews for their draft strategy. However, as I posted last week, the team is in no position to have been choosers last Thursday night, and operated as such. They stocked up on talented guards in the first round and now must add a head coach who can bring these players along slowly (Sam Mitchell, perhaps?). Signing Rubio for this season may be tricky, but having Flynn in the mix means a quality player will be manning the point no matter what. Having both in the same backcourt will certainly sell tickets.
Count me as an early supporter of Kahn's strategy. It certainly cannot get worse in Minnesota, and at least the Wolves are guaranteed a solid performer at the point next season.