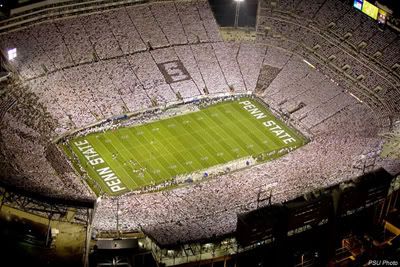 Ten years ago, Glen Mason's Gopher football team marched into Beaver Stadium to take on second-ranked Penn State. The Nittany Lions had a punishing defense which featured LBs LaVar Arrington and Courtney Brown, who would end up going 1-2 in the 2000 NFL Draft the following spring. The game looked like a mismatch, but the Gophers had played PSU tough in Mason's first two years at Minnesota.
In 1997, the Gophers led 15-3 in the 4th quarter before a PSU touchdown cut the margin to 15-10. Later, a terrible official's call missed a Penn State receiver running out of bounds and then re-entering the field to catch an important pass which set up a second Curtis Enis touchdown to give the
Nittany Lions a 16-15 win
over a Gopher team which finished 1-7 in the Big Ten.
In 1998, the Gophers again played Penn State tough. The Gophers cut the PSU deficit to 16-10, before Kevin Thompson hit Corey Jones for a 65-yard TD pass. What the officials missed, again, was Jones stepping out of bounds before he re-entered the field and caught the pass. The TD took all the wind out of Minnesota's sails and
Penn State escaped with a 27-17 win
.
The 1999 game featured a Gopher team which had lost consecutive tough games to Ohio State and Purdue - both at home - and stood at 2-3 in the Big Ten and 5-3 overall. Eyeing their first bowl appearance since 1986, the Gophers absolutely needed at least one win in their final three Big Ten contests, which were the Penn State game in Happy Valley, at home against Indiana, and at a terrible Iowa team in Kirk Ferentz's first season.
The Gophers trailed 20-14 in the 4th quarter, before Thomas Hamner got loose on a screen pass from Billy Cockerham and sprinted 49 yards for a TD. The score was tied becau
se the Gophers failed to convert on a two-point conversion. After Travis Forney kicked a field goal to give PSU a lead with 9 minutes and change to go, the Gophers faced a 4th and long just inside the Penn State 40 yard line with less than a minute to play. However, Cockerham's Hail Mary was tipped by WR Ron Johnson and fell into the hands of Arland Bruce to
complete the "Immaculate Deflection"
and put the Gophers in position for a winning field goal. Dan Nystrom's 32-yard field goal gave the Gophers
a 24-23 shocker
at the gun and was the signature win of the Mason era.
Ten years later, there are indeed some similarities between the 1999 and 2009 Gophers heading into Happy Valley. Coach Tim Brewster is in his third season at Minnesota, as was Mason in 1999. The Gophers currently sit at 2-1 in the Big Ten and need a few more victories to become bowl-eligible. However, the biggest similarity between this year's situation and that of 1999 is that Coach Brewster desperately needs a signature victory to cement his stamp on the program.
It will be difficult in State College this weekend. Penn State is not as good as advertised early on, but they are still
ranked among the nation's top 15 teams
. The Nittany Lions are 5-1, losing only to Iowa three weeks ago, and are fresh off crushing victories at Illinois and at home against non-conference powerhouse Eastern Illinois.
PSU senior QB Darryl Clark has been efficient so far in 2009, completing over 60% of his passes and connecting for 12 touchdowns against 7 interceptions. He has also run for 3 TDs on the ground, and has averaged over 4 yards per carry. On the ground, junior Evan Royster is having another solid season, rushing for 504 yards and 4 TDs this season, one year after a 1,236 yard and 12-TD campaign. Sophomore RB Stephfon Green has also emerged in 2009, gaining 248 yards and 3 TD on 45 carries. Penn State's receiving core is deep, with Derek Moye, Chaz Powell, Graham Zug, Andrew Quarless, and Joe Suhey all surpassing the 100-yard mark this season.
Penn State's defense is strong. They have given up only 61 points in six games this season, and 21 of those were in the team's long loss to Iowa.
The Iowa game proved that Penn State's offense can be forced into turnovers if defenses can get to Clark and make him uncomfortable throwing the ball. As is the case with any mobile QB, if given time to make plays, they will usually find ways to make plays.
The Gophers finally broke through last week against Purdue and controlled the line of scrimmage offensively. The Gophers rushed for 207 yards and finally found a running back, freshman Kevin Whaley, who can run off-tackle. Whaley gained 79 yards on 8 carries and had a large role in running significant time off the clock down the stretch. One game after fumbling in his only carry, Duane Bennett is once again in the Gophers' good graces, with 9 carries for 53 yards last week.
QB Adam Weber put the ball in the air only 9 times last week, completing 5 and getting picked twice. The less Weber is relied upon to make a play, the better it is for the Gophers if they have designs on winning.
The defense and special teams have made plays all season long for the Gophers. Although the defense has given up yards in bunches in 2009, they have shown they have play-making ability, especially in the linebacking and secondary corps. They'll need both to step up against Penn State.
If the Gophers want to win this weekend, they need to play football like they did in the third quarter of the Purdue game. The Gophers dropped a hammer on the Boilermakers in the third, outscoring them 21-0 and completely dominating the play. They forced turnovers and did not allow Purdue to do anything offensively. They'll need to do the same offensively against Penn State.
Look for the Gophers to give Whaley the first opportunity to be the future back on Saturday. He is the Gophers' potential big-play back, and is explosive. He can definitely run off-tackle, something the Gophers have been unwilling or unable to do all season. The Gophers should try to establish the run early on and attempt to control the clock to keep their defense off the field. This will also limit Weber's feeling he has to force the ball to Eric Decker at all costs, and one can bet the Nittany Lions will be keying on Decker constantly.
On defense, it would be nice to see the Gophers have a consistent pass rush to put pressure on Clark. He showed in the Iowa game he will try to force the ball in to his receivers if he's panicked. The Gophers' linebacking has been strong all season long, so if Clark tries to force something over the middle under duress, look for Lee Campbell to get in the way.
Penn State can
be beaten. As is the case with just about every PSU team over the past decade, they start the season with a lot of hype, get exposed, and lose to a good team. Coach Joe Paterno likely last did some actual coaching during the Reagan Administration, but fans will be filled with stories of how Joe Pa actually walks to work or even kicked an onside kick during a practice three years ago. This is a good matchup for the Gophers - certainly much better than next week against Ohio State - and will be a good test of how good and athletic is Brewster's 2009 edition.
Prediction: Penn State 27, Minnesota 21.