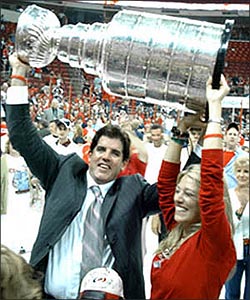 The only coach in Minnesota Wild history, Jacques Lemaire, announced on Saturday night that
he was stepping down
. In this Michael Russo piece, and as heard from Bob Kurtz and Tom Reid on WCCO Radio's hockey show on Sunday afternoon, Lemaire is not retiring and wants to coach again. However, it will not be with the Minnesota Wild.
Lemaire was named to the position before the Wild even began assembling players in the summer of 2000. Citing his close relationship with Minnesota General Manager Doug Risebrough, a former teammate with the Montreal Canadiens, Lemaire left the solitude of semi-retirement in Florida to take over the expansion team. His hiring gave the Wild instant credibility, as Patrick Reusse writes.
The Stanley Cup pedigree cannot be downplayed. Lemaire won 8 as a Hall of Fame player with the Canadiens, two more as a manager with the Habs, and one as head coach of the New Jersey Devils. He is also widely-regarded as one of the top (if not THE top) coaches in the NHL today - even at age 63. Lemaire is old-school and Russo's piece linked earlier details some of his approaches which were not very popular with today's players. This ESPN.com post has some more grievances from Marian Gaborik and James Sheppard (who?). Still, he was able to get the most out of his teams, the Wild were never out-coached with him at the helm, and he will be sorely missed by fans of this franchise. One can also say with little argument that the only reason the Wild are as competitive as they have been thus far is because of the man behind the bench.
The average tenure of NHL coaches today is very short - getting to be very NBA-like - and having the same coach behind the bench for all eight seasons is extraordinary. ESPN quoted STATS, Inc. as saying that there have been 100 coaching changes in the NHL since Lemaire took over the Wild. Looking at the expansion classes of 1999 and 2000 (ignoring 1998's Nashville Predators, coached by Barry Trotz since day-one), the list below shows the other three teams coming into the league with the Wild and their respective head coaches, listed as first-to-present:
Atlanta - Curt Fraser, Bob Hartley, Don Waddell (interim), John Anderson

Columbus - Dave King, Doug MacLean (Interim), Gerard Gallant, Gary Agnew, Ken Hitchcock
So, the Wild will have the unenviable task of replacing their head coach this summer, as well as making a decision on free agent star Marian Gaborik. Donny Puck is able to provide some free advice, in case Doug Risebrough is a loyal reader.
With Lemaire's resignation, the Wild have been presented with an opportunity to completely remake the franchise. The team faces serious decisions, most notably on Marian Gaborik and whether or not they'll be able to sign him. Signing Gaborik is imperative if they are serious about winning next year. The 2009 free agent class has some interesting talents - Marian Hossa, Mike Modano, Saku Koivu to name three - and Minnesota certainly has the cap room to be active. The Wild will most likely be without Andrew Brunette for at least the start of the season after his knee surgery, and Mikko Koivu will have his knee fixed as well over the summer. With these skilled forwards question marks heading into next season, the off-season becomes even more important.
The Case For Peter Laviolette:
In Donny Puck's humble opinion, if the team wants a makeover, then it must hire Peter Laviolette to replace Jacques Lemaire. I am not saying this because he's among the all-time winningest US-born coaches (only NY Rangers' John Tortorella has more NHL wins), but he is the right man to lead this organization.
Laviolette has had success in his two previous stops in the NHL. His first chance came with my beloved New York Islanders in 2001-02, and he stayed on the Island for two seasons, leading them to consecutive playoff appearances. He was unceremoniously fired by Mike Milbury (but then again, who hasn't?) and was hired as Paul Maurice's successor in Carolina the following season. After coaching out the balance of the 2003-04 season, Laviolette's 2005-06 Hurricanes won the Southeast Division with an excellent 52-22-8 mark and won the Stanley Cup that spring. He even had the opportunity to coach the US Olympic Team in the 2006 Turin games - an unacceptable 8th place finish, but I put that blame on management and the fact that the US team was far too old and slow.
Laviolette's Hurricanes' teams missed the playoffs the two years following the Stanley Cup triumph and he was fired two months into the 2008-09 season. Over his five full seasons as a coach, Laviolette's teams qualified for the playoffs three times. Prior to his arrival on Long Island, the Islanders had missed the playoffs seven consecutive seasons, and have only been back twice since his dismissal after the 2002-03 season.
His style is more up-tempo and attacking - a style which would seemingly appeal to Gaborik and other free agents. The Wild opened-up considerably during its final two games and won the two games with 8 and 6 goals scored. Not that Laviolette would bring fire wagon hockey back to the Twin Cities, but they'd certainly be more entertaining and interesting than the teams of the last five years.
My gut is that the Wild will play it conservatively and hire someone on the current staff (Mike Ramsey or Mario Tremblay) or Houston coach Kevin Constantine. Tremblay and Constantine have previous NHL head coaching experience and all three of these candidates will practice the same style preferred by Lemaire. In order for the Wild to remain somewhat relevant, they need an image change, and hiring Peter Laviolette to open things up is a step in the right direction.
Elsewhere in the NHL:
Francois Giguere is out as GM in Colorado. It's amazing how stupid you get from one season to the next when you lose Paul Stastny, Joe Sakic, and Adam Foote. Still, he fired Joel Quenneville after a surprise showing in last year's playoffs and brought in Tony Granato to coach. He signed Andrew Raycroft to replace Jose Theodore in goal, and that was a disaster. President Pierre Lacroix will step in temporarily - my guess is that he'll stay longer - and try to right the ship. Lacroix has a solid reputation in Denver, but it's not as if he left the cupboard well-stocked for Giguere when he left a few years ago, so count Donny Puck as skeptical.
The Buffalo Sabres are evaluating everything after a disappointing season. Coach Lindy Ruff may or may not return. I thing both Ruff and GM Darcy Regier should both be allowed one more season to get things in order.
Maybe Mike Modano will return to Dallas next year for a 20th season with the Dallas/Minnesota franchise, and maybe not.
Donny Puck First Round Stanley Cup Playoff Predictions:
Boston over Montreal (5 games)

Washington over NY Rangers (6 games)

New Jersey over Carolina (5 games)

Pittsburgh over Philadelphia (7 games)

San Jose over Anaheim (7 games, and this series costs SJ a second round victory)

Detroit over Columbus (6 games - the Jackets will play them tough)

Vancouver over St. Louis (4 games)

Chicago over Calgary (6 games)